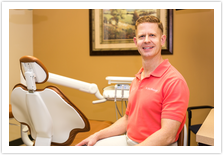 Brian E. Himelwright, DDS
The chance to serve, get to know personally, and have a long-term relationship with my patients is what makes going to work every day a happy opportunity for me and my dental team. Hearing about a patients's grand-baby or job promotion, or providing a sympathetic ear when needed, makes dentistry more about people and not just teeth. We pride ourselves on continuity of care, and many of our patients have been with the practice more than 40 years (building on the strong foundation of Doctors Lady, Streeter and Hawk). We look forward to many years of continued service, too, with old and new patients alike.
My own dental career began in 1993 with a practice in McMinnville, Tennessee right after graduating from UT College of Dentistry. After practicing there for 16 years, my wife and I made the decision to return to my hometown Kingsport in order to be close to my parents and raise our children in a growing, friendly community.
I place a high emphasis on continued professional training. I am proud to be a member of the ADA, TDA, 1st District Dental Society, Kingsport Dental Society, and I was named Associate Fellow of the American Academy of Implant Dentistry in 2007.
My staff members and I all place excellent, concerned patient care at the top of our priorities.
Thank you for taking the time to visit Himelwright Dentistry's website. We look forward to meeting you and helping you take care of your dental needs.